An Affordable Private Education
Canton Montessori School is proud to offer several options to make attending a private, Montessori school possible for interested families through both state scholarship opportunities and CMS funded financial aid.  Financial assistance helps 32% of Canton Montessori School families provide their students with an exceptional educational experience that truly sets them up for success.
Ohio EdChoice Scholarship
ALL K-8 STUDENTS ARE NOW ELIGIBLE TO APPLY FOR A STATE SCHOLARSHIP!
Thanks to the recent expansion of the Ohio Department of Education EdChoice Scholarship Program, every CMS student (K-8) now qualifies to apply to receive a state tuition scholarship of up to $6,165/year! Awards are based on a sliding scale, but regardless of income, EVERY FAMILY may receive a scholarship.
WHAT COULD THAT LOOK LIKE FOR MY FAMILY?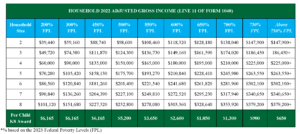 CMS Elementary tuition for the 2023-24 school year is $8,300.
CMS Kindergarten (full-day) tuition is $8,900.
More information about the EdChoice Scholarship can be found on Ohio Department of Education links below:
All students are eligible to apply for a CMS funded scholarship thanks to our generous donors.  A limited amount of financial assistance is available for families who qualify based on financial need as determined by the FACTS application. To apply, families must submit a FACTS application by April 1st for the upcoming academic year. Once the FACTS results are received, the CMS Scholarship Committee will notify applicants of any available financial assistance in writing.